Richa and Inder's love story was a Bollywood Production, and their pink and orange wedding weekend was no different. From their long weekend proposal in San Francisco to their wedding at this private estate, Samson Productions was there to capture all the moment and details for this special couple. In true bollywood fashion, Inder surprised his bride Richa with a surprise performance by their favorite singer, The PropheC at their Reception as well. Scroll down to see the photos from this memorable weekend!
The ceremony gazebo was draped elegantly with pink and orange chiffon. To compliment the draping, the floral team at Floramor Studios adorned hand-strung marigolds around structure. With bold pink and white furniture, the couple was ready for exchange their vows.
At their reception, the entire hall was filled a billowing of red flowers holding lavender flowers stemming from the suspended floral at each guest table. They sat neatly in a tall, clear vase with handing sparkles. All the photos showed the pink tint reflecting the entire room that came from the uplights from the main stage. The ceilings were also decorated with a design from the stencils of the gobo lights. Looking toward the sweetheart stage, you could see the white couch being backed by a wall of white drapes. Gracefully tipping over the drapes were bright pink flowers intertwined with bright pink bushels. The entire frame was bordered with a bold pink drape.
Our photos did the best with capturing the magic and love presented at this wedding as every moment was picture perfect.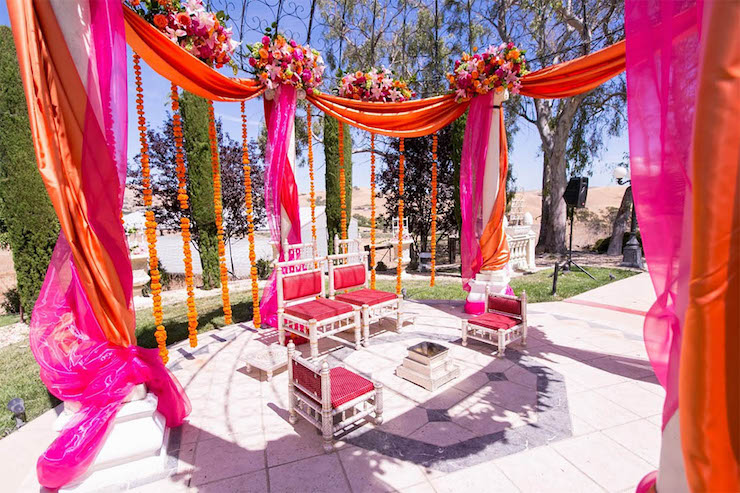 Creative Team
Venue: Private Estate
Floral Design & Décor: Floramor Studios
Tenting: Raj Tents
Photographer: Samson Productions
Videographer: AK Sandhu & CinemaButterfly
Planner: Floramor Studios
Caterer: Madhuban Indian Cuisine